Due to the combined experience of our berry specialists, Fruitful-Berries has been able to build a strong reputation with producers and customers in a short time. Our detailed approach and rapid follow-up can count on national and international recognition.
The trust placed in us by global soft fruit producers enables us to meet your requirements very quickly, time after time.
Service is our main focus.
Fruitful-Berries has a dedicated and exclusive focus on berries. Berries is the sector in which our
people are specialised and in which we will continue to develop.
Our year-round offer consists of:
Blueberry
Raspberry
Strawberry
Blackberry
Cherries
Red currant
Green currant
Kiwiberry
At our Fresh Park Venlo site, we use seven state-of-the-art packaging lines that are exclusively intended for the packaging of berries.
You can come to us for more than 30 different types of packaging: fully customised and according to the end customer & wishes. We guarantee you a perfectly finished end product every day and hour of the year.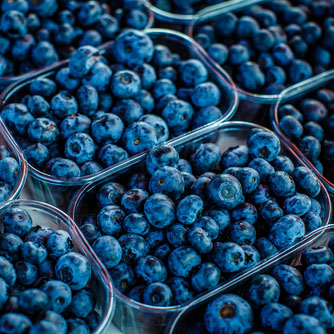 We always work to measure for each customer.
Integrated sales service
Personal contact and follow-up
Logistic support
Variety and innovation support
Sales on week and program basis
Sale of both bulk and packed fruit
Full badge and order picking level
Daily personal contact
Private retail label packaging
Service provider experience (ERP)
Long term & dedicated relationship
Personal account manager